Hey there, beautiful! Today, let's embark on a journey through the captivating realm of bathroom tile trends for this year. Bathroom tiles, often seen as mere functional elements, are the unsung heroes of interior design and renovation.
They not only serve their practical purpose but also possess the remarkable ability to infuse style and elegance into your space. In an ever-evolving tile industry, staying in the know about the latest trends can be quite the adventure.
THE EVER-CHANGING LANDSCAPE OF BATHROOM TILE TRENDS
Bathroom tile trends, much like fashion, have a way of shifting and evolving with the times. Cast your memory back to 2013, and you'd find a world of vibrant colors and intricate patterns adorning bathroom tiles. Fast forward to 2016, and the scene shifts to a softer, more subdued palette of natural shades and tones.
Now, in the years 2021 and 2022, industry experts have unveiled a fresh array of bathroom tile trends that are poised to reign supreme. In this blog post, I'll be your guide as we explore these trends in vivid detail.
THE INTRICACIES OF BATHROOM TILE TRENDS
Bathroom tiles, with their diverse shades, textures, shapes, and sizes, offer a canvas for creativity. They're more than just a practical choice; they're a statement of style. So, let's unravel the mysteries of the top 10 bathroom tile trends expected to sweep the market this year.
1. TERRAZO TILES: A TOUCH OF TIMELESS ELEGANCE
Cre: Bathroom Design
Terrazzo tiles, a trend that traces its roots back to 15th-century Italy, have resurged in popularity. Crafted by blending marble, glass, and granite chips into a cement binder, these tiles are not only visually captivating but also incredibly durable.
They're a breeze to maintain and come in a spectrum of colors and patterns. Terrazzo tiles bring forth a retro-chic aesthetic, and when coupled with brass or gold fixtures, they infuse an opulent touch.
2. LARGE FORMAT TILES: THE ILLUSION OF SPACE
Cre: Gachre98.com
Large format tiles, those measuring 24 inches or more, have been making waves in modern bathroom design. They have the enchanting ability to create an illusion of vastness, making even the smallest of bathrooms appear more spacious.
These tiles boast a variety of textures, patterns, and colors, offering endless possibilities. For the imaginative, pairing large format tiles with smaller ones can lead to truly unique and mesmerizing designs.
3. MATTE FINISH TILES: SUBTLE SOPHISTICATION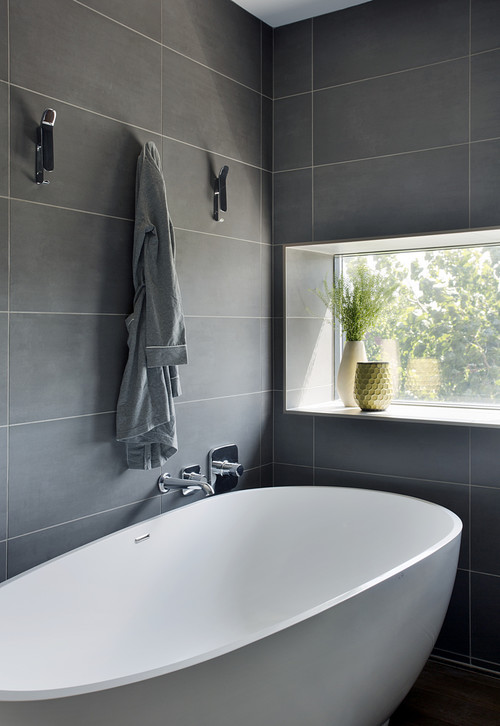 Matte finish tiles are the embodiment of sophistication. Their non-reflective surfaces lend a subtle, understated charm to any bathroom.
These tiles are perfect for those seeking a minimalist design, and when paired with natural wood or stone accents, they infuse a warm and inviting atmosphere.
4. GEOMETRIC TILES: PLAYFUL PATTERNS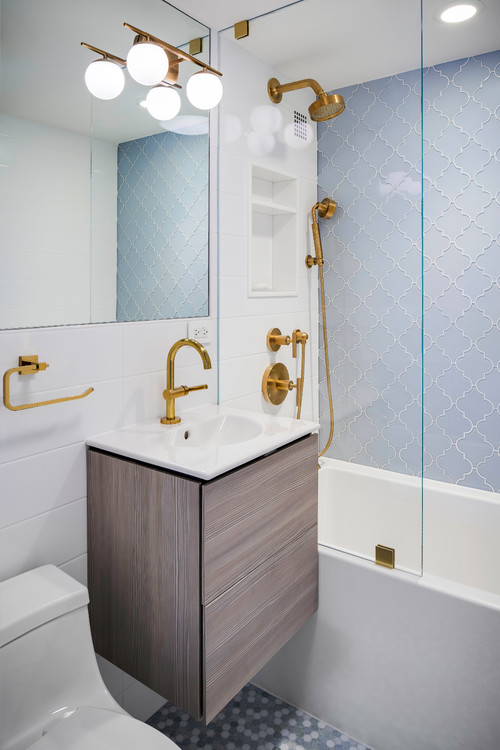 Geometric tiles introduce a delightful sense of playfulness into bathroom decor. With shapes ranging from hexagons to triangles and diamonds, they offer a captivating canvas for creative expression. Geometric tiles can be employed to craft a striking statement wall or floor and can be balanced with neutral colors for a harmonious look.
5. SUBWAY TILES: A TIMELESS CLASSIC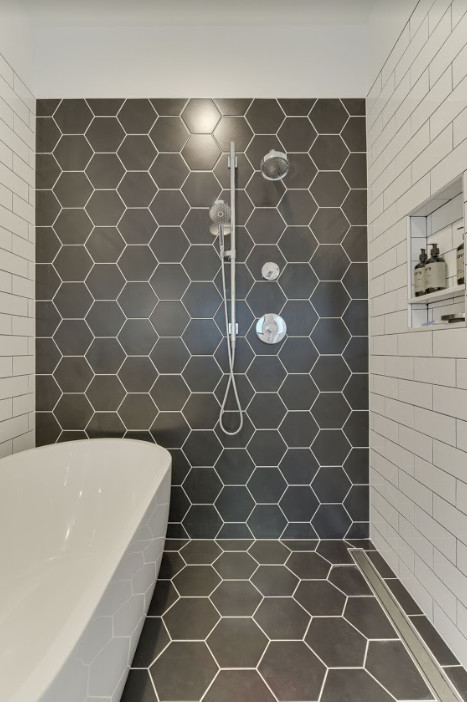 Subway tiles, a classic trend that's been around for over a century, show no signs of fading into obscurity.
Typically white or off-white and boasting a rectangular shape, these tiles exude timeless charm. They serve as a perfect backdrop for both classic and modern bathroom designs. Pair them with black fixtures for a chic and contemporary vibe.
6. MOSAIC TILES: ARTISTRY IN EVERY TILE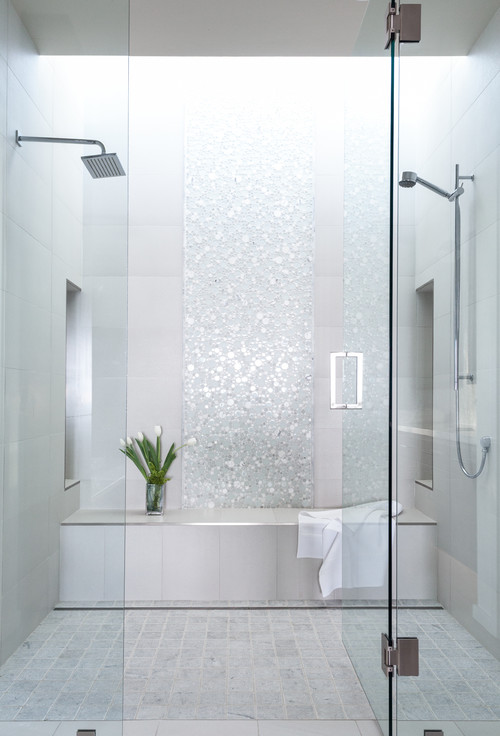 Mosaic tiles, composed of small tiles meticulously arranged in patterns or designs, are a testament to artistry.
These tiles allow you to create unique feature walls or floors, adding a touch of artistry to your bathroom. Pair them with natural stone to achieve a rustic and inviting look.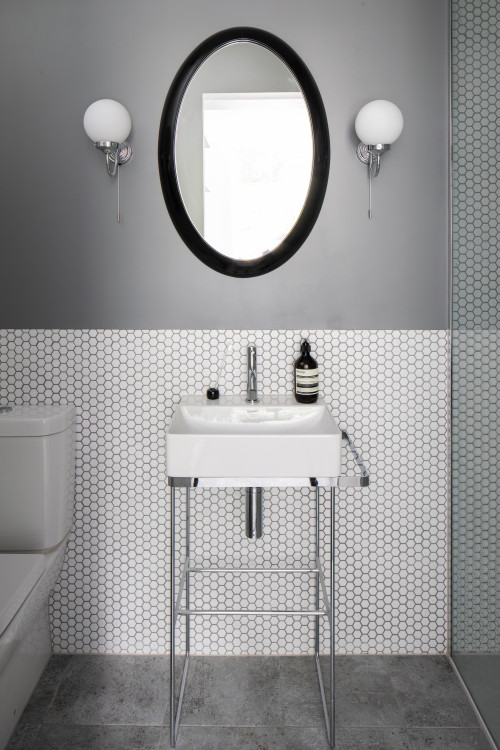 7. PATTERNED TILES: INFUSING PERSONALITY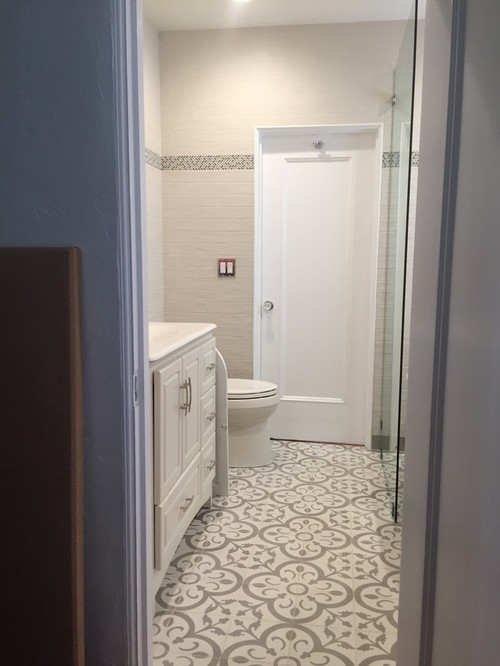 Patterned tiles, available in an array of colors and designs including florals, geometric patterns, and abstract art, allow you to inject your personality into your bathroom. They serve as the perfect canvas for creating bold feature walls or floors.
When combined with neutral colors, they strike a harmonious balance.
8. WOOD-LOOK TILES: WARMTH AND COMFORT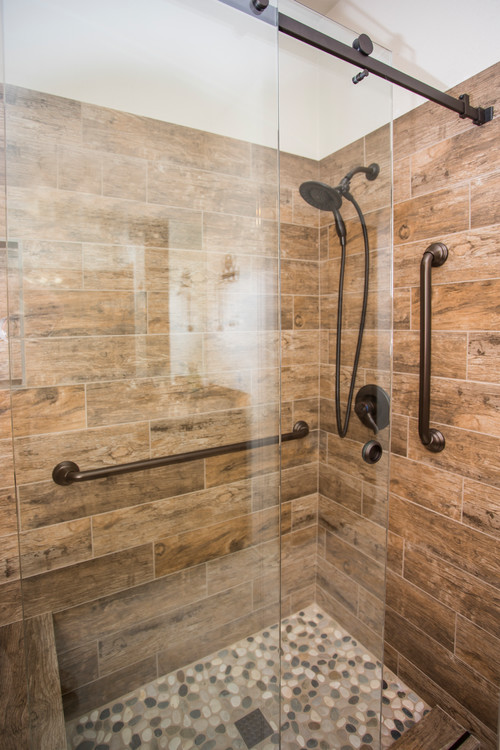 Wood-look tiles bring the cozy embrace of wood into your bathroom without the concerns of maintenance. With realistic wood grain textures and a plethora of colors and styles, they effortlessly create a rustic or farmhouse ambiance.
Pair them with natural stone to achieve a balanced look that's both inviting and timeless.
9. 3D TILES: ADDING DEPTH AND TEXTURE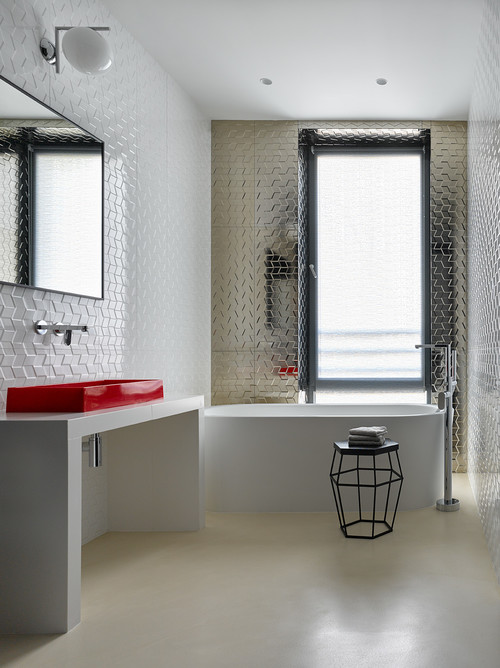 3D tiles, with their raised surfaces, introduce an alluring depth and texture to your bathroom. They create a captivating three-dimensional effect that's truly unique.
These tiles are ideal for crafting a statement wall or floor and can be balanced with neutral colors for a well-rounded aesthetic.
10.METALLIC TILES: A TOUCH OF LUXURY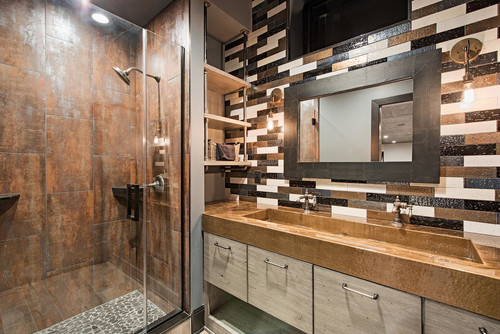 Finally, metallic tiles bring a dash of luxury to your bathroom. Available in finishes like gold, silver, and bronze, they add a touch of opulence.
Metallic tiles are perfect for those seeking a modern or industrial look, and when paired with black fixtures, they create a striking and bold contrast.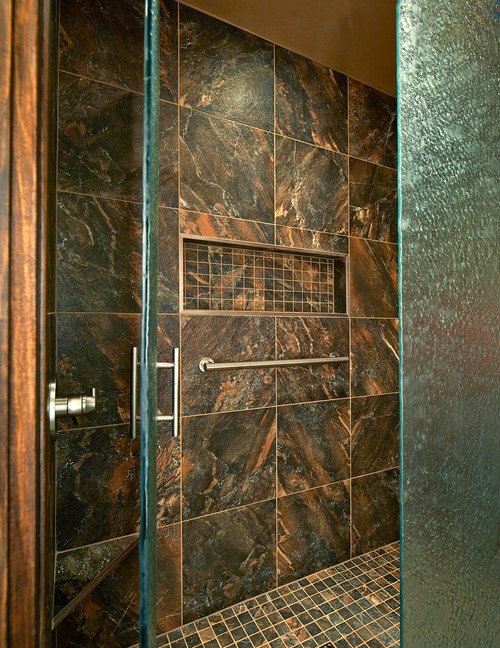 Last words
In conclusion, staying abreast of the latest bathroom tile trends is pivotal in creating a bathroom space that's not only aesthetically pleasing but also functional. From the timeless allure of subway tiles to the artistry of mosaic and patterned tiles, there's a world of possibilities to explore.
By incorporating these trends into your bathroom design, you'll be well on your way to crafting a space that's a seamless blend of beauty and utility. So, whether you're planning a full renovation or just a subtle refresh, let these trends inspire you on your journey to creating your dream bathroom!